Helen's Asian Kitchen 8" Carbon Steel Wok
Helen's Asian Kitchen 8-inch Carbon Steel Wok is perfectly sized to create single-serving recipes and reheat smaller portions. It's versatile for stir frying, stewing, sautéing, steaming, braising, and frying favorite Asian recipes, and more. Crafted from a sturdy 1.4-millimeter carbon steel, it distributes heat quickly, so foods cook evenly. The cooking surface collects a natural patina over time to create that coveted non-stick cooking performance. The natural rubberwood handle is heat-resistant for comfortable use. Its sturdy riveted and flat-bottom design sits securely on any stovetop and works equally well with gas, electric, and induction. It also hangs for easy storage.


Sized for single-serving stir fry recipes and reheating smaller portions


Made from 1.4-millimeter carbon steel


Heat-resistant rubberwood handle with loop - hangs for storage


Sturdy riveted and flat-bottom design

"
Questions? Give us a call (209) 223-0264 9am to 5pm PST
View our shipping & return policy here
Description
Care and Use



Carbon steel is easily seasoned, reseasoned, and maintained to help prevent rust. Successive seasoning and regular use will gradually build a black patina, providing a smooth, stick-resistant surface, much like a well-seasoned cast iron skillet. The more use the pan gets, the darker and more stick-resistant it becomes. It is completely normal for an unseasoned wok to develop rust. Rust will not harm or alter the performance of the wok in any way. Simply scour away the rusted areas and season as instructed. Before first-time use, clean thoroughly, then season to seal the surface and prevent rusting.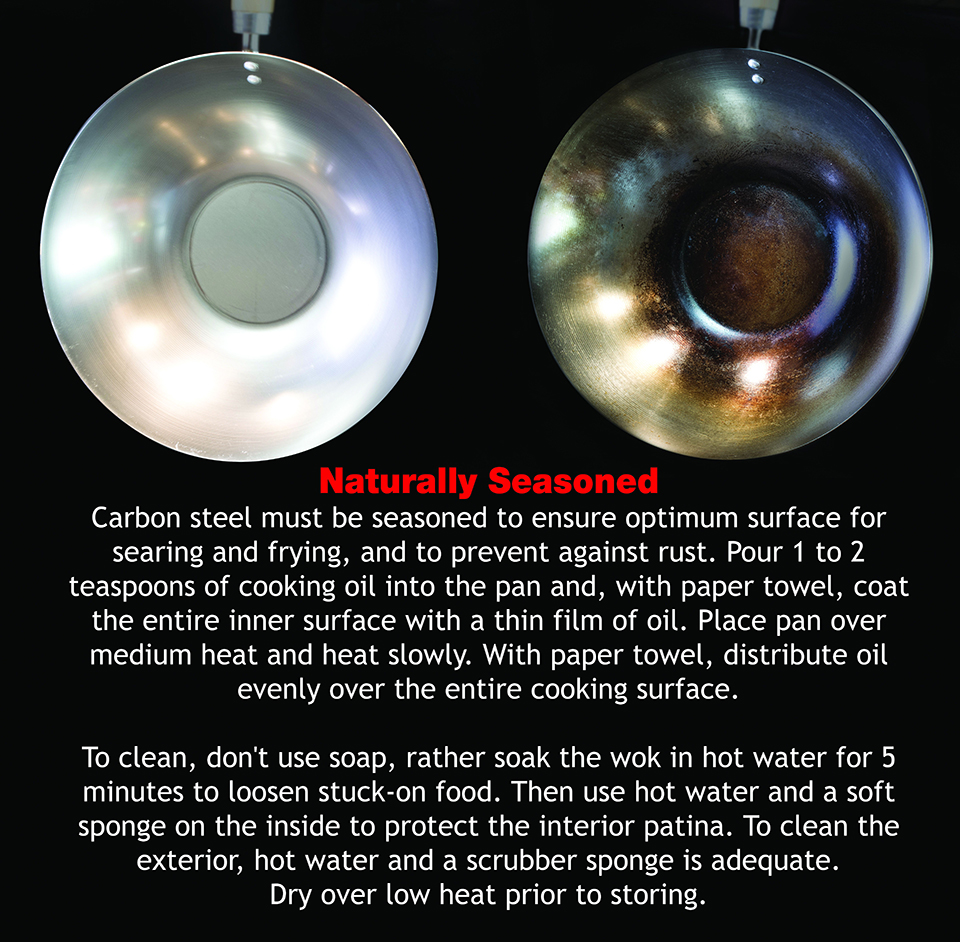 Product Details
Video