AnySharp Knife Sharpener Pro
The unique, patented AnySharp knife sharpener uses tungsten carbide technology to extend the life of almost any knife. AnySharp works on virtually any knife, including expensive hardened steel knives, chef's knives and even serrated blades such as bread knives.

Sharpens any size knife with diamond precision


Sharpens serrated knives


Sharpens hardened knives


Safe one-handed use


PowerGrip suction for secure operation


No skill required



California Proposition 65

Questions? Give us a call (209) 223-0264 9am to 5pm PST
View our shipping & return policy here
Description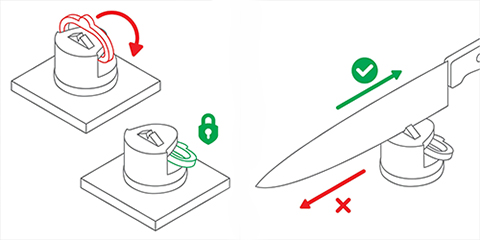 Hands free safety

The AnySharp's unique safety feature is its PowerGrip suction cup base, which attaches securely to any smooth surface or worktop without the need for any tools. Once it's attached you can sharpen any knife safely hands free!

Knife Edge Safety
When your whole knife has been run through, your knife-edge may touch as it exits the sharpening tools. The AnySharp has a long-lasting polymer guiding top that is softer than metal, and therefore won't damage the metal edge, making it safe for your knives too.

No Skill Required!
The optimum angle to sharpen a good quality steel knife is 20 degrees. AnySharp is preset at 20 degrees to give a perfect edge every time. Getting a consistent angle with a sharpening stone is a skilled job, but AnySharp allows anyone to get professional results without any training at all.

Store it easily and conveniently out of the way:
Since it is so small and light, AnySharp can be easily tidied away in a drawer, cupboard, or tool box when not needed. AnySharp is small enough to store in your kitchen drawer. You could even PowerGrip it to your fridge or tiled kitchen wall, out of the way yet handy when you need it.

Ecological, money-saving:
AnySharp makes your old, blunt knives perfectly usable again and extends their useful life. For many people, AnySharp can pay for itself in just days.

Product Lifetime Warranty:
The AnySharp comes with a No-Quibble performance guarantee for the operational lifetime of the product. The lifetime warranty covers every part of the sharpener, not just the sharpening tools.

Award Winning:



Product Details

Click to view more of our AnySharp products

Brand:

AnySharp

Size:

2.4" x 2.4" x 2.6"


Capacity:

 

Material:

Weight:


5.8 oz

Color:

A

vailable in Red, Green or Silver

Style:

Notes:
Video