Heavy Duty Flat Roux Whisk Stainless Steel
This flat roux whip allows you easy access to the pan's corners and bottom. The flat 4 wire design is great for mixing roux (butter & flour mixture) for thickening sauces. You can also use it with stiff batters or to deglaze.

4-wire flat whisk head


1" diameter stainless steel handle


Dishwasher Safe


Made in the USA
Questions? Give us a call (209) 223-0264 9am to 5pm PST
View our shipping & return policy here
Description


Best Manufacturers Inc., a family business, has designed and fabricated the highest quality, most sanitary professional whisks and mashers in Portland, Oregon since 1959. With roots in the restaurant supply industry, Best supplies the same durable cooking tools required by the rigors of the professional kitchen to the home cook.
Best Whips are also manufactured to the sanitary specifications of the National Sanitation Foundation (NSF), the recognized authority in professional kitchen tools and kitchen equipment. As a third generation specialty manufacturer/distributor, Best is proud to offer a large selection of Made in America products.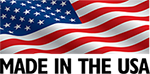 Product Details