Butterie
My name is Joelle and I invented Butterie™.  A few years ago I learned, quite by accident, that butter does not require refrigeration. Did you know that? Only about half of America knows.  I had always kept it in the fridge thinking if I left it on the counter it would spoil (it's dairy, right?).
Well, surprise! Butter does not spoil and in fact, it can be kept at room temperature for three weeks and it's perfectly safe to consume. I've since learned about 1 in 4 people keep their butter on the counter all the time.  Having soft, spreadable butter is such a pleasure; it's easier to spread on toast, it melts instantly on steamed veggies & baked potatoes, and when cooking, there is no extra added step needed to soften the butter.
However, the problem with room temperature butter is that it's messy. Leaving it in the wrapper made it difficult to use, and using a traditional 2-piece butter dish made a mess of the butter & my counter. I needed a better solution and so I designed Butterie™.
Butterie is a stylish butter dish that allows people to easily & conveniently enjoy soft, spreadable butter anytime.  Butterie's unique feature is it's patented, flip-top design that keeps butter protected while keeping countertops clean.
Butterie's small, compact shape takes up very little counter space, and yet it holds a wide variety of butter stick sizes.  Butterie is made with a high quality, BPA-free, shatterproof plastic and includes easy-grip handles and a non-slip base. Butterie includes a spreader and a hidden, no-mess edge for scraping the butter knife clean.
Butterie is available in 8 gorgeous colors including red, light blue, cobalt blue, taupe, black, yellow, ivory & white.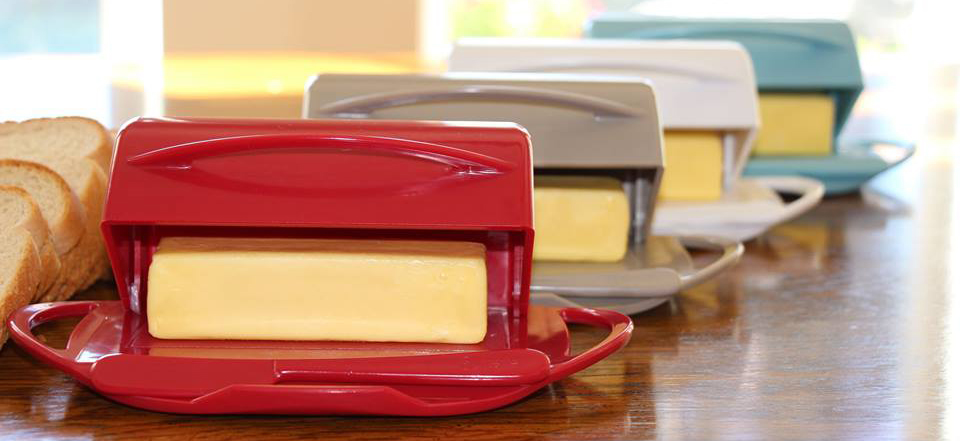 Sources:
Butter dish with attached flip top lid, dishwasher safe, shatter proof, BPA free plastic, easy grip handles.