Reston Lloyd
Reston Lloyd was founded in 1972 by Ms. Rita Bolle, and has remained a woman owned company for over 40 years. The headquarters are located in Sterling, Virginia where the 40,000 square foot warehouse, is the main distribution center for its customers. Reston Lloyd produces high quality enamel on steel kitchen, melamine, and acrylic accessories to produce Corelle Coordinates as well as their private brand Calypso Basics. In addition, Reston Lloyd is the exclusive distributor for both Romertopf and MAWA which are home & kitchen products from Germany. These high-end quality products is one of the corner stones to Reston Lloyd, who focus on quality merchandise from Germany.
Products from Reston Lloyd are promoted by numerous sales teams nationwide. The merchandise is predominantly displayed in showrooms across the country such as those in the states of Georgia, Virginia, Minnesota, Texas, Las Vegas, & LA.
Licensing and contract sales are also an important section of business that they maintain. Reston Lloyd currently has a licensing agreement with World Kitchen for the Corelle Coordinates Accessories. In the past they have had licensing agreements with other well known companies such as Pfaltzgraff, Ingleman, Gear Products, Wegewood and more. They also work closely with companies to help manufacture custom design work for companies like Villeroy & Boch, Nikko Ceramics, Portmeirion, Hershey, and others.
Rita Bolle has weathered many storms and her company remains a recognizable competitor in the houseware industry, due to her vision and perseverance within the industry. She was one of the first to do in store demonstrations in the early 1970s and continues to this day to bring new ideas and products to the US Market.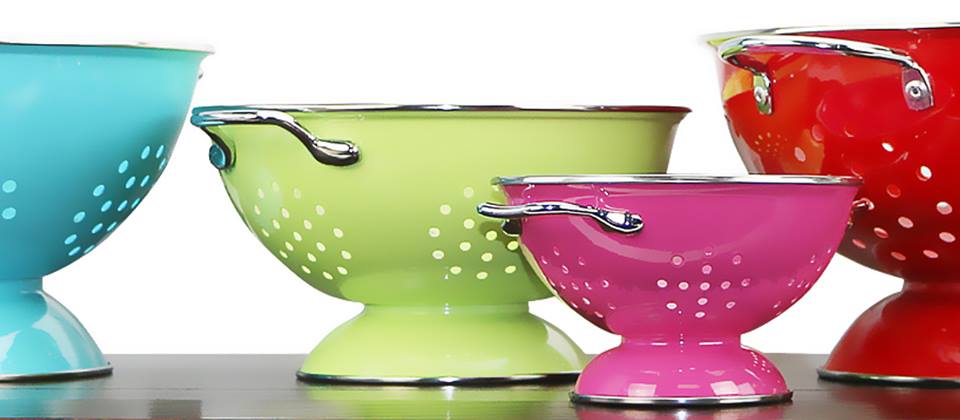 Sources:
Colanders are both usual and can added color to your kitchen. This powder coated colander can be used for both hot and cold prep items. When it's not in use, don't put it away, hang it on your pot rack or use it as a fruit bowl, to enjoy the vibrant color everyday.
 Powder coated enamel on steel colander Chrome plated handles Stainless steel rims Hand wash

Colanders are both usual and can added color to your kitchen. This powder coated colander can be used for both hot and cold prep items. When it's not in use, don't put it away, hang it on your pot rack or use it as a fruit bowl, to enjoy the vibrant color everyday.
 Powder coated enamel on steel colander Chrome plated handles Stainless steel rims Hand wash